Cornerstones Magazine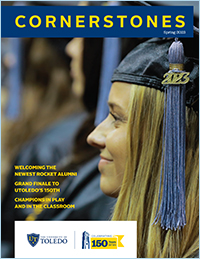 In fall 2022, the Foundation's Cornerstones newsletter was reimagined as a way for us to stay in touch twice a year, with stories of how the passion and ingenuity of our students, alumni, educators and supporters are empowering UToledo to change the world.
Cornerstones publishes in fall and spring as a joint publication of The University of Toledo Foundation and The University of Toledo Alumni Association. Each fall edition includes The University of Toledo Foundation's annual report.
Question or story idea? Email us here. 
Past Issues
2022  |  Fall
2020  |  Winter
2019  |  Winter |  Spring  |  Summer  |  Fall
2017  |  Winter  |  Spring  |  Summer  |  Fall