Women & Philanthropy
Women & Philanthropy supports and promotes The University of Toledo—while building relationships among a community of generous, forward-thinking women. Interested in joining this dynamic and diverse group of community leaders, business professionals and volunteers?
Together, the group's members have provided nearly $600,000 to 21 interesting and innovative UToledo projects. Want to donate to W&P initiatives such as the Holiday Project for Literacy?
News
Women & Philanthropy Grant to Support Biomedical Research

Preliminary work on the new Women & Philanthropy Germ-Free Facility for Biomedical Research is underway, with the facility expected to be up and running in 2020 under the guidance of Dr. Matam Vijay-Kumar, director of the UToledo Microbiome Consortium.
 
The project received $65,000 in grant funding from Women & Philanthropy and matching funds from the College of Medicine and Life Sciences.
 
Dr. Bina Joe, Distinguished University Professor and chair of the Department of Physiology and Pharmacology, will continue her research on hypertension, using the lab to house germ-free rats that are needed to advance her studies. While germ-free models are used for a variety of research applications, UToledo's lab will be one of the only academic sites in the country with germ-free rats, which Joe said more closely mimic human disease states.

On Demand Videos
The Women & Philanthropy Education Committee and The University of Toledo College of Medicine and Life Sciences Alumni Affiliate held a virtual webinar, "COVID-19 and Hypertension." The Webinar touches on the major health concerns of COVID-19 as it relates to people with hypertension and how the metabolism responds. 
Making an impact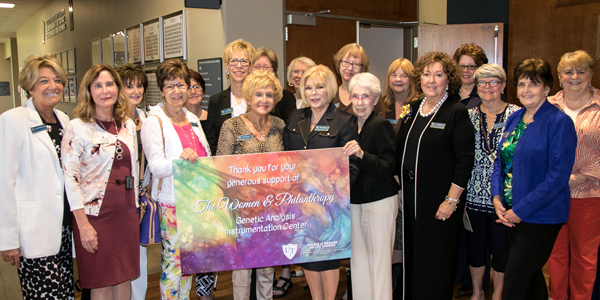 "We are extremely grateful for the significant investment provided by Women & Philanthropy to establish the Genetic Analysis Instrumentation Center, which will greatly enhance our capability to investigate numerous diseases and develop potential therapies."
Dr. Steven Haller, Center Co-Director and Assistant Professor in the Department of Medicine