Support Women & Philanthropy
MARCH IS WOMEN'S HISTORY MONTH
The University of Toledo is celebrating our women students, faculty and staff who are leaders, innovators, nurturers, explorers, providers and champions.
Want to join like-minded women in being a part of exciting new initiatives at The University of Toledo?
Your gift to Women & Philanthropy will impact students, patients, programs, and services—having a ripple effect through the UT community and beyond.
Since 2005, Women & Philanthropy has provided nearly $500,000 in 19 grants to The University of Toledo. By pooling members' resources, W&P is able to make significant awards for UT needs and opportunities.
The inaugural grant, in the amount of $15,000, was awarded in 2008 to the William Carlson Library to commission a glass sculpture by the late artist, Thomas McGlaughlin. That sculpture, entitled "A University Woman," is on display in the library and has become the model for the Women & Philanthropy logo. 
Past projects
2008
"A University Woman" Sculpture - $15,000
2009
Named Classroom in Savage & Associates Complex for Business Learning and Engagement -$50,000
UT Outdoor Garden Classroom - $10,644
2010
Interactive Display in Ritter Planetarium and Observatory - $16,000
Women's Basketball Locker Room Enhancements - $8,190
2011
Honors College Student Art Gallery - $7,097
UT Center for Excellence in Autism Adolescent Girls' and Women's Initiative - $20,000
2012
Hospitality Area in William and Carol Koester Alumni Pavilion - $50,000
2013
Interactive Educational Displays for the UT Lake Erie Center -$15,000
Renovation of Savage Arena Media Room - $23,000
2014
Eberly Center for Women Computer Lab - $21,800
Women & Philanthropy Student & Family Room in Rocket Hall - $12,500
2015
Women & Philanthropy Playground at the UTMC Kobacker Center - $28,070
2016
Women & Philanthropy Active Learning Classroom in Wolfe Hall - $50,080
Living Science—The Ever-Changing Periodic Table in the Instrumentation Center - $31,465
2017
Women & Philanthropy Genetic Analysis Instrumentation Center in the College of Medicine and Life Sciences - $59,892 
Renovation of the Brooks Observatory Hallway - $6,000
2018
Women & Philanthropy Thrombosis and Hemostasis Research Center in the College of Medicine and Life Sciences - $29,195 
Photoscreening of Infants and Children at Well-Care Visits - $5,984
2019
Women & Philanthropy Germ-Free Biomedical Research Facility - $65,000
2020
Women & Philanthropy Axon Design and Fabrication Labs - $65,000
2021
Lake Erie Center Research Vessel - $50,000
How We've Made a Difference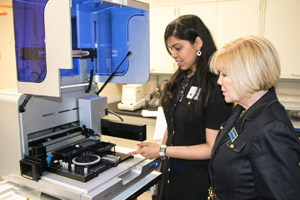 "We are extremely grateful for the significant investment provided by Women & Philanthropy to establish the Genetic Analysis Instrumentation Center, which will greatly enhance our capability to investigate numerous diseases and develop potential therapies."
Dr. Steven Haller, Center Co-Director and Assistant Professor in the Department of Medicine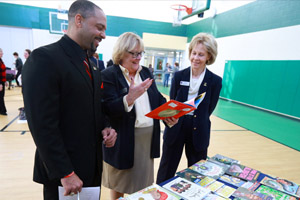 "We are incredibly grateful that the UT Judith Herb College of Education and Women & Philanthropy have chosen to support classrooms throughout TPS schools, including Old Orchard, which is right in the neighborhood of the University. As a College of Education graduate, I'm especially proud of this partnership to serve our students."
Dr. Romules Durant, Toledo Public Schools Superintendent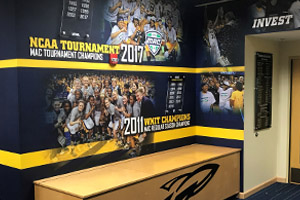 "We are very grateful for the grant we received from Women & Philanthropy. We were able to decorate the walls of the locker room in a way that inspires our current team, honors our former student-athletes and impresses our recruits. We were also able to add a computer and printer that have helped our players study for classes."
Tricia Cullop, UT Women's Basketball Coach

"Receiving the grant from Women & Philanthropy has allowed the Center for Excellence in Autism to renovate and equip an 'autism-friendly' examination room that is part of our Adolescent Girls' and Women's Wellness Initiative. Their vision has allowed us to bring to life a vital element of our programming, which is the first of its kind in the country. It is a lasting contribution that embodies the best of UT's spirit of innovation and dedication to serving the needs of the community."
The UT Center for Excellence in Autism